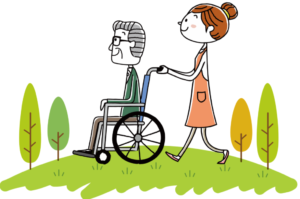 At Ohayo Travel, we understand your desire to travel and we can help you make it happen. If you have a wish to visit Japan to see friends or families, yearn to go to certain places, or to experience fascinating Japanese culture, but worry that there may be difficulties, we are here to help you. We are a Tokyo-based travel agency catering to visitors to Japan, especially for those who feel such traveling might be difficult due to factors such as age, health conditions, etc.
Should you have any questions regarding our services, please feel free to contact us.
We look forward to serving you soon!
---
How we can help you
Have you ever wanted to go on a special trip, but in the end gave up because of concerns like these?
I have a physical disability.
I won't be able to fully enjoy my trip because I am limited in the places I can go.
I don't want to be a burden on my family or friends.
I'm worried about potential injury or sudden change in my health condition.
I just don't know where to start.
Here at Ohayo Travel, we clear each and every obstacle so that you can travel to the places where you want to go and realize the things that you want to do.
At Ohayo Travel we help with:
Planning your trip: We arrange suitable transportation and accommodation to meet your needs.
We organize safe and suitable ways to move around.
We ensure the service readiness of sightseeing spots and facilities.
We secure rooms that meet your needs.
We arrange and check the suitability of the bathing facilities.
We arrange meals appropriate to your needs (upon request).
From day one of your trip, we go that extra mile to ensure the individual needs of each of our clients are met. We can also arrange professional support such as nurses and carers (upon request) to give you that extra peace of mind during your travels.
---
How to plan and your trip
1. Please inform us of the purpose of your trip, place(s) you would like to visit, accompanying person(s) if any, your health conditions and support needs.
2. Ohayo Travel will propose a plan(s) to find the perfect trip for you.
3. Based on your agreement, we will book transportation and accommodation.
4. Final confirmation (subject to the client(s)' health condition(s) and/or weather conditions) to be made just before the planned departure date.
5. We will organize your trip so that you can focus on enjoying it!
6. We can help you preserve those precious memories with a video/photo album from your trip (upon request).
---
Please also see:
My "Why" for this Business