Tourist Attractions
World Heritage – Toji Temple, Tenryuji Temple, Ryoanji Temple
Autumn Leaves – Eikan-do, Tofukuji Temple, Arashiyama/Sagano Area, Tenryuji, Adashino-Nenbutsuji Temple
History and culture – Kyoyaki Pottery, Miyako Odori
Kyoto's World Heritage Site consists of 17 shrines, temples and castles. It was registered as a UNESCO World Heritage Site in 1995 and is registered as a "historical building of ancient Kyoto" as a next-generation relic.   In autumn in Kyoto, we recommend the shrines and temples where you can enjoy the autumn colors of Kiyomizu-dera Temple, Toji Temple, Tenryuji Temple, and Ryoanji Temple.
Spot No.1
Kiyomizu-dera Temple
Kiyomizu-dera Temple has been attracted a lot of visitors since Heian period(AD794-1185). As you climb up the approach, you will see the Nioumon Gate, Nishimon Gate, and three-storied pagoda (these are all "important cultural properties") with the view of Mt. Otowayama in Higashiyama Mountains. The Hondo main hall ("national treasure") is built on a cliff.  You will find cherry blossoms and fresh greenery in spring, colored leaves in autumn. The view of Kyoto City from there is superb. There are 15 buildings, all designated as "important cultural properties", are lined up in the Kiyomizu-dera Temple.
There is a wheelchair-accessible toilet. An assistance dog can accompany you. A site map for wheelchair users is available at the entrance of the main hall. If you are a wheelchair user, you can go along the emergency route by car close to the main hall.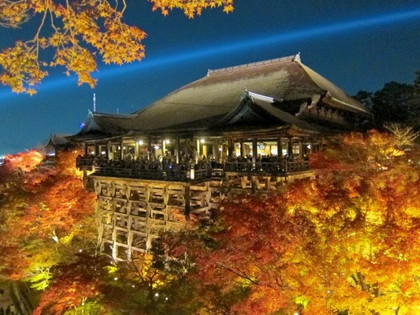 Spot No.2
To-ji Temple
The five-storied pagoda of Toji Temple is a "national tresure",  stands out with the beauty of wooden architecture in the area of Kyoto Station where majority of the buildings are modern. The 55-meter tower is the highest of all the wooden structure in Japan.  The third Shogun of Tokugawa, Iemitsu rebuilt and donate it to the temple in 1644. There are many highlights such as the Japanese oldest Shingon Esoteric Buddhism sculpture in Kodo lecture hall ("important cultural property"), Kondo main hall ("national treasure"), Daishido ("national treasure"), and the Rengemon Gate (lotus flower gate, national treasure) in To-ji Temple. 
There is a wheelchair-accessible toilet. Wheelchairs are available for visitors. An assistance dog can accompany you (you need to notify it at the reception desk.) In some areas wearing shoes are prohibited.  (Source : Kyoto universal sightseeing guide : http://kyoto-universal.jp/en/index.html)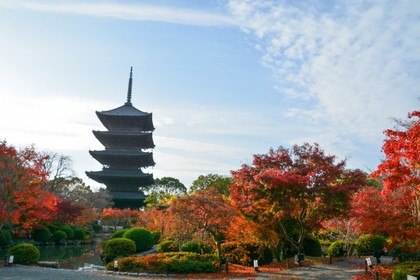 Spot No.3
Tenryu-ji Temple
The temple has been positioning the number one position among the Kyoto Gozan (or Kyoto 5 temples). The garden behind Hojo, a monks' living room (designated as "historic site" and "special scenic spot") reflects the remnants of the past. In the Chisen strolling garden, one of the most famous Japanese garden style, with Arashiyama and Kameyama in the background, you can enjoy a unique snenery of each season.  The Heian Nobles's culture and the Zen style culture are nicely blended in this garden.
There is a wheelchair-accessible toilet. An assistance dog can accompany you.  There are some areas including Hodo hall where taking off shoes is required. In the areas you can enter after cleaning the wheelchair tires or putting a cover on tires. There is a route map for wheelchairs.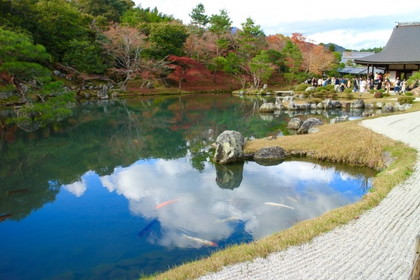 Spot No.4
Ryoan-ji Temple
The dry landscape garden ("historic site" / "special scenic spot") on the south side of Hojo(monks' living room) is a famous stone garden. The stone garden is a rectangular white sand garden that is 30 meters east-west and 10 meters north-south, surrounded by earthen wall soaked with oil on both sides, and 15 stones are grouped in 5, 2, 3, 2, and 3 pieces.
There is a wheelchair-accessible toilet. An assistance dog can accompany you.  . There is stationary audio guide. You need to take off shoes inside the building.  It is not wheelchair-accessible.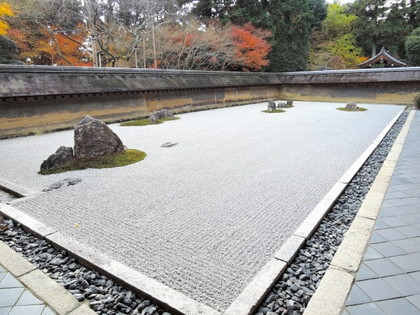 Spot No.5
Eikando Temple
Eikando is the Jodo-shu Seizan Zenrin-ji School Head Temple.  It is known as "Maple Eikando". The statue of Amida Nyorai, "Mikaeri Amida," who tilts his head to the left and looks back, is also famous. With Higashiyama mountains in the background, colorful trees of the garden make the atmosphere of four seasons.
Eikando has slopes and elevators, so there is not much difficulty for people with disabilities to visit the temple.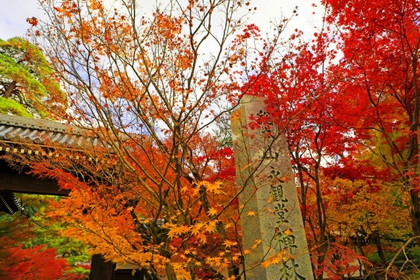 Spot No.6
Tofuku-ji Temple
There are a lot of valuable cultural properties such as Sanmon Gate ("national treasure"), Tosu (toilet in temples),  and Zen-do hall with the remnants of the life of Zen monk in Muromachi period. Tsutenkyo bridge is famous for its autumn colors. Two wheelchairs are available for visitors (one each for Tsutenkyo and Hojo Garden).There is a wheelchair-accessible toilet.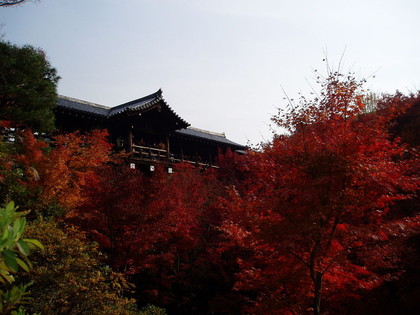 Spot No.7
Arashiyama and Sagano
Arashiyama is one of the most popular sightseeing spots in Kyoto. The 155 meter-long Togetsukyo Bridge spans the gentle and comfortable flow of Katsura River. The area from Sagano to Adashino is crowded with many people in fall, with many highlights of autumn colors. Wheelchair-accessible restrooms are available, making it ideal for strolling.