We had a chance to support a gust assisting to take a bath in Keio Plaza Hotel in Shinjuku, Tokyo.   The person is a tilt and reclining type wheelchair user and the bathing with normal type shower carry in Japan is not suitable.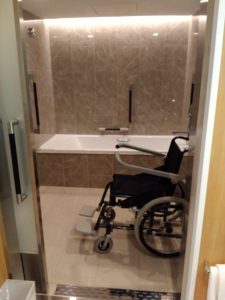 Here in Keio Plaza Hotel, the universal design room is built and equipped almost perfect for those people.  We used a wheelchair that makes it easy for oneself to keep his/her sitting position with a curved arm rest.    The floor is anti-slip finish to avoid slip and fall accident when it is wet.  You could feel the difference when you stand inside of the bathroom and the outside.
After the washing and rinsing the body, we assist him to take a bath and we know from his face he enjoys the bath a lot.    The moment we are proud of our job.
We wrote some more in detail about the universal design rooms of Keio Plaza Hotel here.