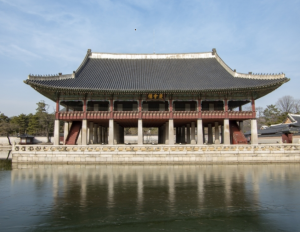 From an article of  The Korea Times of May 1, 2019 
According to the city, around 1.4 million people aged over 65 and some 390,000 disabled people were living in Seoul in 2018. A survey released by the Korea Consumer Agency in 2015 showed 87.4 percent of the nation's disabled people experienced inconvenience while traveling in the country mainly because of transportation accessibility problems, such as a lack of facilities for people in wheelchairs as well as a shortage of tour programs designed for wheelchair users.

The city government said although the conditions of daily transportation and accommodation have improved significantly, information and accessibility to facilities such as hotels and restaurants are still insufficient for people with mobility difficulties.

In response to those citizens' demands for convenient tourism, the Danurim tour center provides one-stop services, from providing facilities information, drawing up travel plans and making reservations for accommodations and tourist destinations. The center also has spaces where visitors can search for travel information with computers or booklets, as well as offering coin lockers and wheelchairs.

The center also offers the Danurim city tour bus equipped with a wheelchair lift. People can make reservations for the bus at seouldanurim.net.
In Japan we have a lot of support organizations who are tackling with issues similar to the above case.   We may be able to learn from the initiatives of  Seoul Danurim Accessible Tourism Center.
By the way, by clicking the link shown on the article  https://www.seouldanurim.net,  I could not find language selection button, so it is likely that they provide information in Korean only.    We also share this issue with Japan situation, i.e. the amount of accessible information is provided in local language but not in other major languages.
You can also get information in the below site:
http://english.visitseoul.net/essential-Info-article/Accessibility_/398
(notes added on 7th May)
Additional information on visitseoul.net.
About The Seoul Danurim Tourism Center
http://english.seoul.go.kr/opening-of-the-seoul-danurim-tourism-center-for-travel-support-of-the-travel-weak/
DASAN SEOUL CALL CENTER (Multi-language assistance call)
URL:https://www.120dasan.or.kr/static/lang/lang3.html