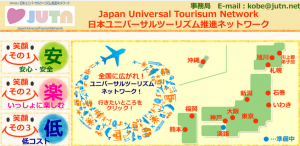 We Ohayo Travel recently joined Japan Universal Tourism Promotion Network (日本ユニバーサルツーリズム推進ネットワーク(JUTN)), and now have the accessibility travel supporter organizations network all over Japan.
The organization started its operation in 2002, aiming to enrich the pleasure travel support for elderly people and disabled people for more safe, more exciting and more reasonably available.
We will set up a regional universal tourism support organization in Tokyo – "Universal Tourism Center MUSASHINO", soon.     Please contact us and ask anything if you have plan to travel Tokyo and its neighbor prefectures – Kanagawa, Chiba, Yamanashi, Ibaraki, Tochigi, Gunma, Shizuoka, Nagano, etc.